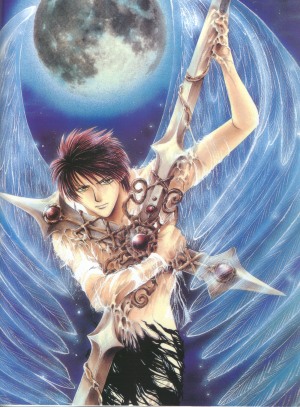 This is a place to view my varied and eclectic cel collection. I had some friends I wanted to show my cels too, and with the help of a great friend and cel collector, I was led to this site! I hope that you enjoy your time here and thanks so much for stopping by!

P.S. I have next to no backgrounds for my cels. I am sorry that they look so blah! If anyone can give me ideas where to find some, can help by suggesting certain backgrounds they have seen that would look good, or come across matching screen shots to help give me an idea for a background...I would be so very grateful. I am new to cel collecting and anime...so I haven't been very good yet at finding suitable backgrounds. I would really appreciate any help!! Thanks so much!


***Tisha
(aka madame_knight & aurons_girl)

One more thing...a great number of my fancels were done by the artists at: http://www.niisan.com/eyegrey/



News & Updates



11/19/2002
I've been trying my hand at painting simple backgrounds. So I have updated some of my old cels. I have some new ones to add...as soon as I get some backgrounds for them.
8/30/2002
I was in a hurry to get these new ones uploaded...but I am about to crash at the computer! :-) I usually try to be more talkative on each of my cel pages...but my brain just didn't want to think today! I am sorry about that and will try to write some better info and opinions on the new cels as soon as I get more sleep!! So bare with me and I will redo the newer and more dull pages soon!
8/7/2002
Madame Knight's Cel Gallery now open.